Collectively, our members literally have hundreds of years worth of knowledge in researching, creating, and experiencing history in Hastings County and its surrounding areas.
We have members from all walks of life: from those who have a passion for the history of the area to those who just want to learn a little more about the community in which they live. Membership dues are an important source of revenue for financing our preservation and educational activities and for those members who have the time, their volunteer work is what has made the Society an important feature in the area since 1957.
Becoming a member of the Society enables you to vote at meetings, stand for election to the Board of Directors and receive a copy of our newsletter, The Outlook, along with other benefits throughout the year. The Hastings County Historical Society is a registered charity and an official receipt for income tax purposes will be sent to you for any donations over and above your membership dues. You can become a member of the Historical Society in a number of different ways:
Come to one of our presentations or special events throughout the year
Drop in to the Community Archives on the second floor of the Belleville Public Library and John M. Parrott Art Gallery
Mail us an application form or apply online for your membership
Membership Fees
Annual
Individual — $25
Family / Couple — $30
Senior (65+) or Student — $20
Senior (65+) Family — $25
Corporate — $100
Not-for-profit Organization — $25
Life Memberships
Individual Life Membership — $150
To print off a membership form: print and complete the Application Form, and mail it with your cheque to the address shown on the form. You can also pay for memberships online.
Please note that we value everyone's privacy. Your personal information will never be shared with or sold to a third party or used for any other purposes other than to contact you, with your permission, about upcoming events and presentations held through the Historical Society.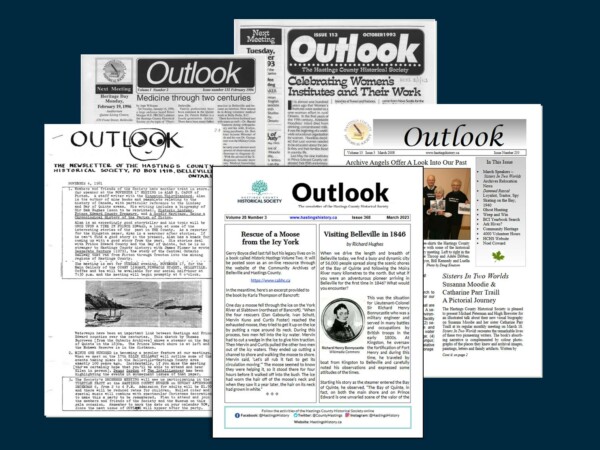 Outlook Newsletter
The last 30 years of our monthly Outlook newsletter are available for reading at the Community Archives of Belleville and Hastings County.
Read More